Sharp's software suite that provides monitoring, asset management and control functionality for display devices
Control, monitor, and manage your display and projector settings in an all-in-one support system with NaViSet Administrator. NaViSet Administrator provides unified control and asset management across product lines through an intuitive graphical user interface and allows for settings to be updated, tasks to be queried and reports to be generated for Sharp and NEC products. Expand this support via NaViSet Server Edition by providing enterprise level display management such as multi-user support with secured communication and logging by running as an on-premises server with remote access.
Feature

NaViSet Administrator 2

NaViSet Administrator Server Edition

Projector, Large Format Displays,
Desktop Monitor, Interactive
Whiteboards and Windows PC control

Yes, control support is dependent on the capabilities of the product being used

Yes, control support is dependent on the capabilities of the product being used

License

Free

Annual License. Inquire by providing information below

Architecture

Single user Windows or macOS application

Server running on Windows, Windows, macOS and Web browser clients

Users

Single User Application

Multiple Simultaneous Users

Security

None

Secure access and rights management (roles)

NaViSet Secure

No

Yes – Secure direct access to remote displays via the internet +
Secure local access to displays

Device Views

No

Yes

Remote Console Access

No

Yes – via NaViSet Secure

Access via web browser

No

Yes

Detailed Event Log

No

Yes

REST API + MQTT
(3rd party application access)

No

Yes

LAN to RS232 Bridge (Windows)

Runs as an app

Runs as a service (available before login)
NaViSet Administrator 2
NaViSet Administrator 2 provides network monitoring and control for supported Sharp and NEC large-format LCD displays, projectors, desktop monitors, and associated Windows PCs.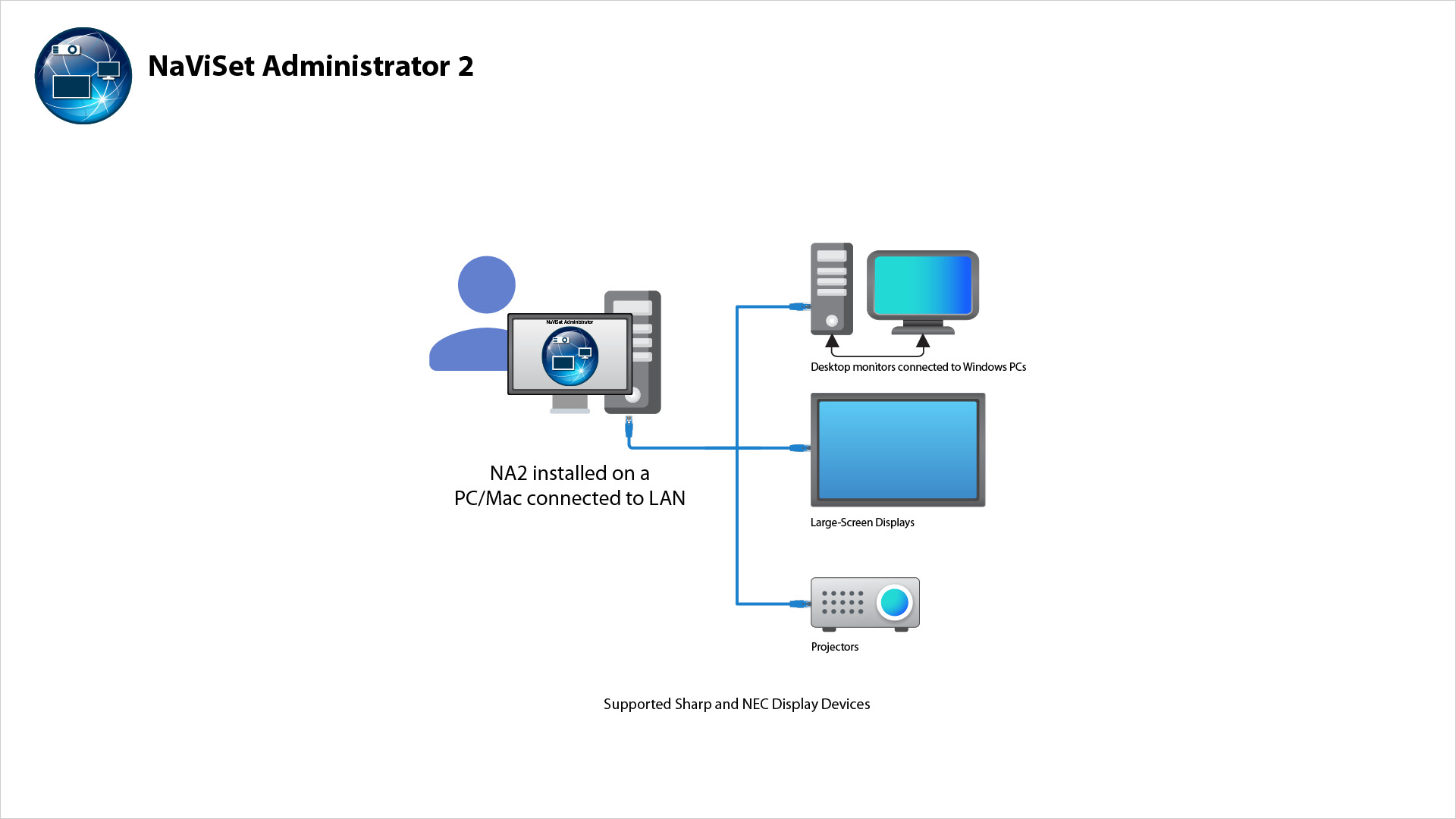 NaViSet Administrator Server Edition
NaViSet Administrator Server Edition expands on this by adding enterprise-level functionality.
Running as a service on a Windows server or PC, it provides simultaneous network access for multiple users via the Console application available for Windows and macOS. Additionally, users can access "on the go" from mobile devices via the server's Web Interface, thus allowing on-the-spot access to settings and diagnostics. All access to the server is secure, role-based, and logged.
REST APIs provide an interface for 3rd party infrastructure to access the server and make queries and requests.
Using an on-premises server allows full functionality even when no Internet connectivity is allowed or possible, or where a temporary loss of Internet connectivity would be disastrous. There is no reliance on expensive Cloud-based servers, and your data remains private.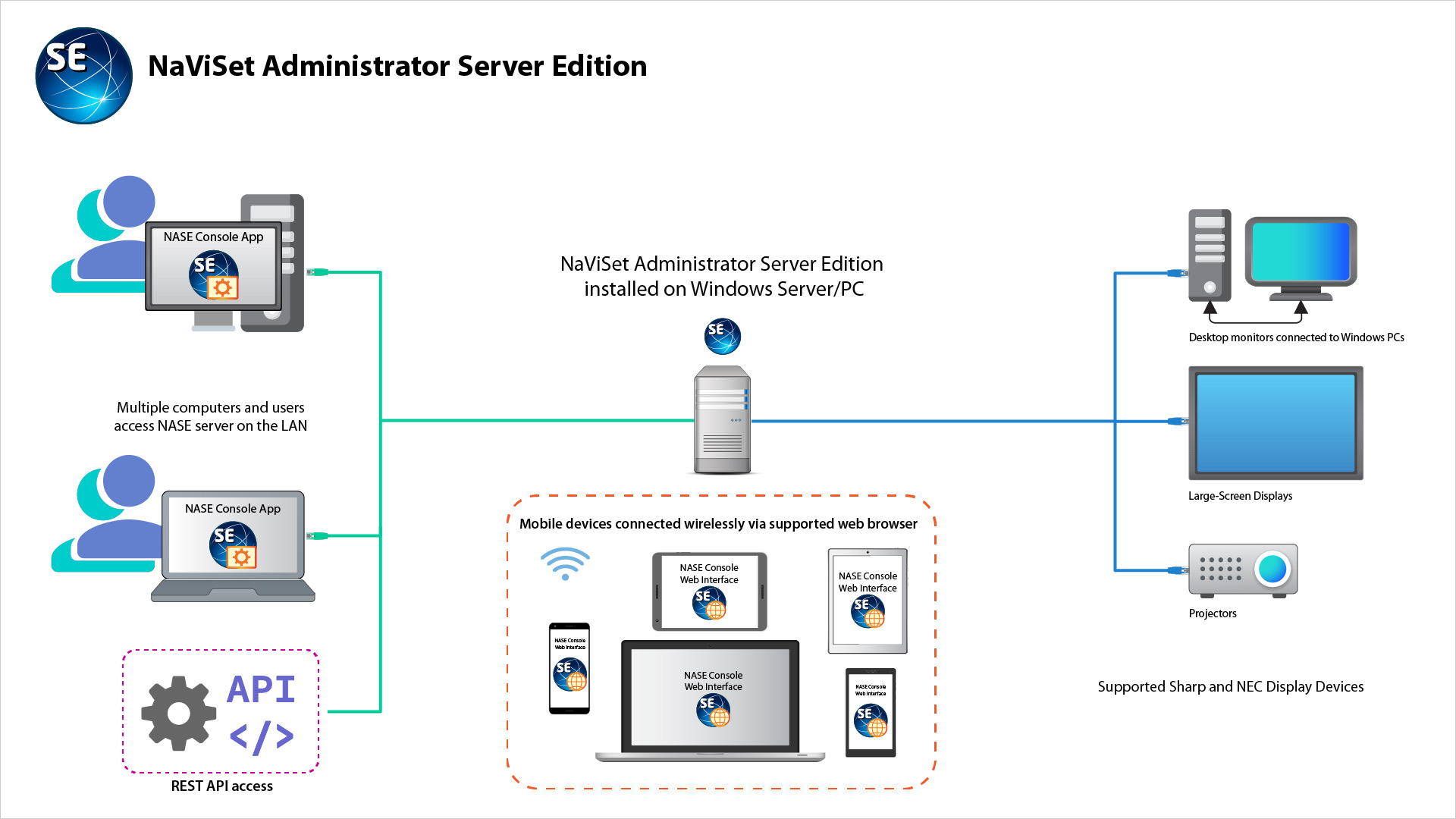 NaViSet Secure
Select models of NEC large-format LCD displays have built-in support for the new secure tunneling technology NaViSet Secure. NaViSet Secure encrypts all communications between the display and control system over a secure tunnel. Normal unsecured local communications such as HTTP access can be disabled, thus preventing unwanted access from within the network. A simple pairing mechanism pairs each display to the server.
Additionally, the NaViSet Secure connection can be extended to work remotely via the Internet, thus allowing remote access and control of supported models without the need for expensive and complex VPNs or other network infrastructure. This unique technology is ideal for situations where multiple sets of remote displays need to be managed and brings the benefits of a Cloud-based system without an external system's associated configuration and security concerns.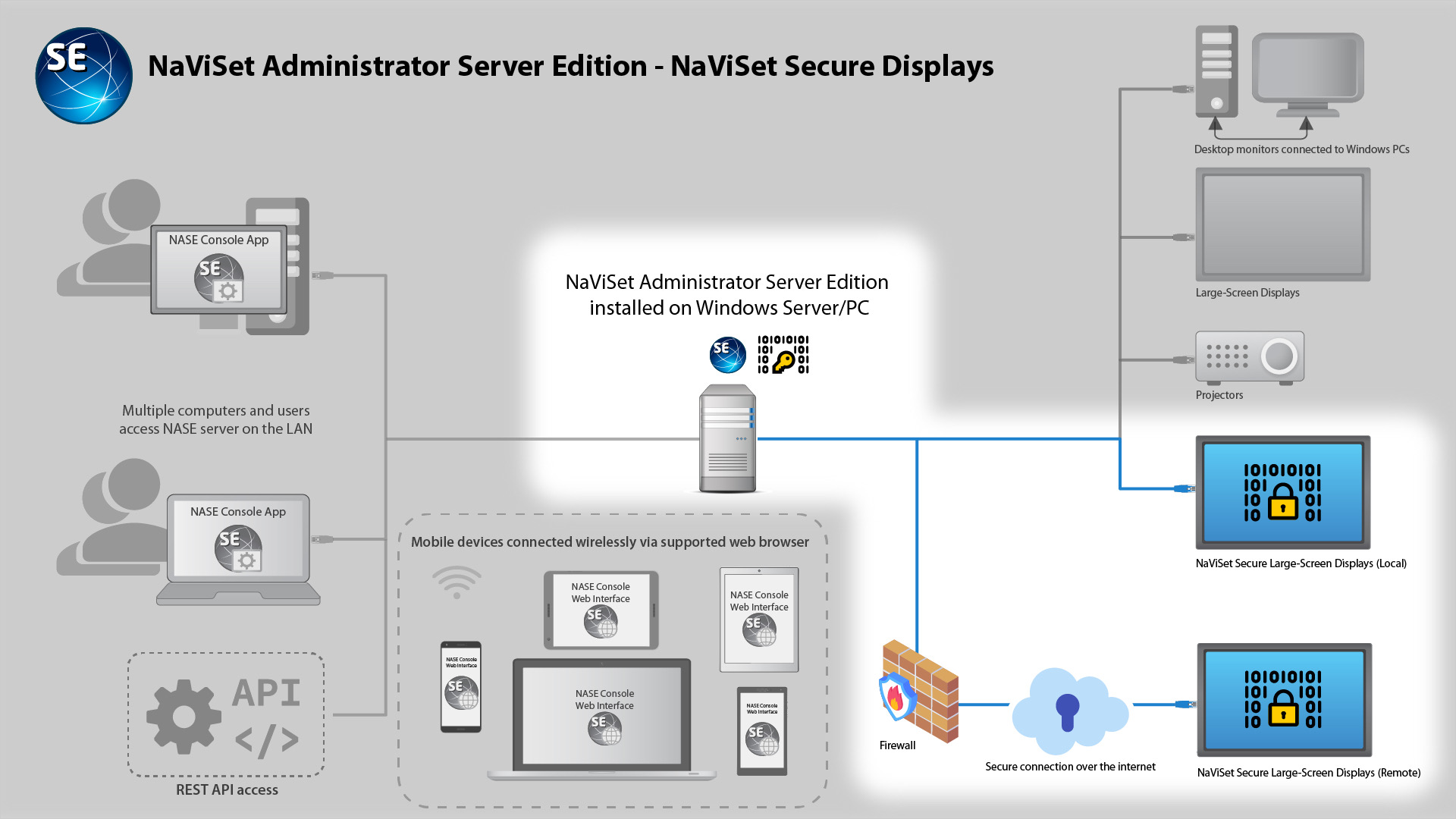 NaViSet Secure (Remote)
Each remote display can be paired, if needed, with multiple sites or servers, allowing different stakeholders to access the display assets. For example, local access can be used for the day-to-day settings and control, while remote access from a service provider may provide asset management for service and support, while yet another stakeholder may access the display to read Proof Of Play data.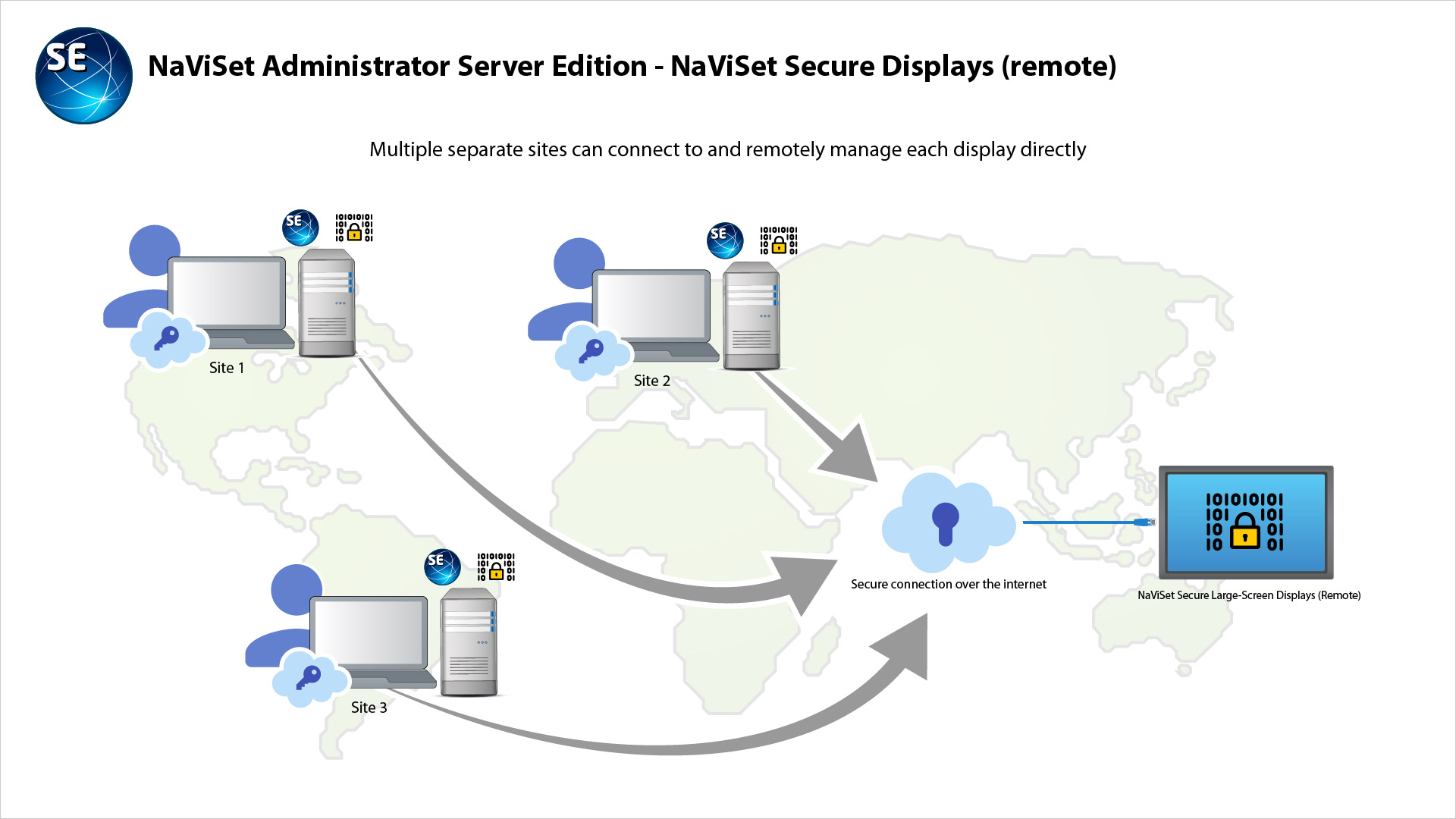 NaViSet Secure (Remote Console)
The NaViSet Secure technology extends to accessing the server itself in that the optional Secure Remote Console allows highly secure remote access to each server via the Internet, again using a simple pairing mechanism. Each remote user can access the server via their Console as if it were local. Minimal configuration is necessary including firewall settings. Again, this provides Cloud-like services with the benefit of running locally and keeping all data securely onsite. Sharp NEC does not store or even have access to any data.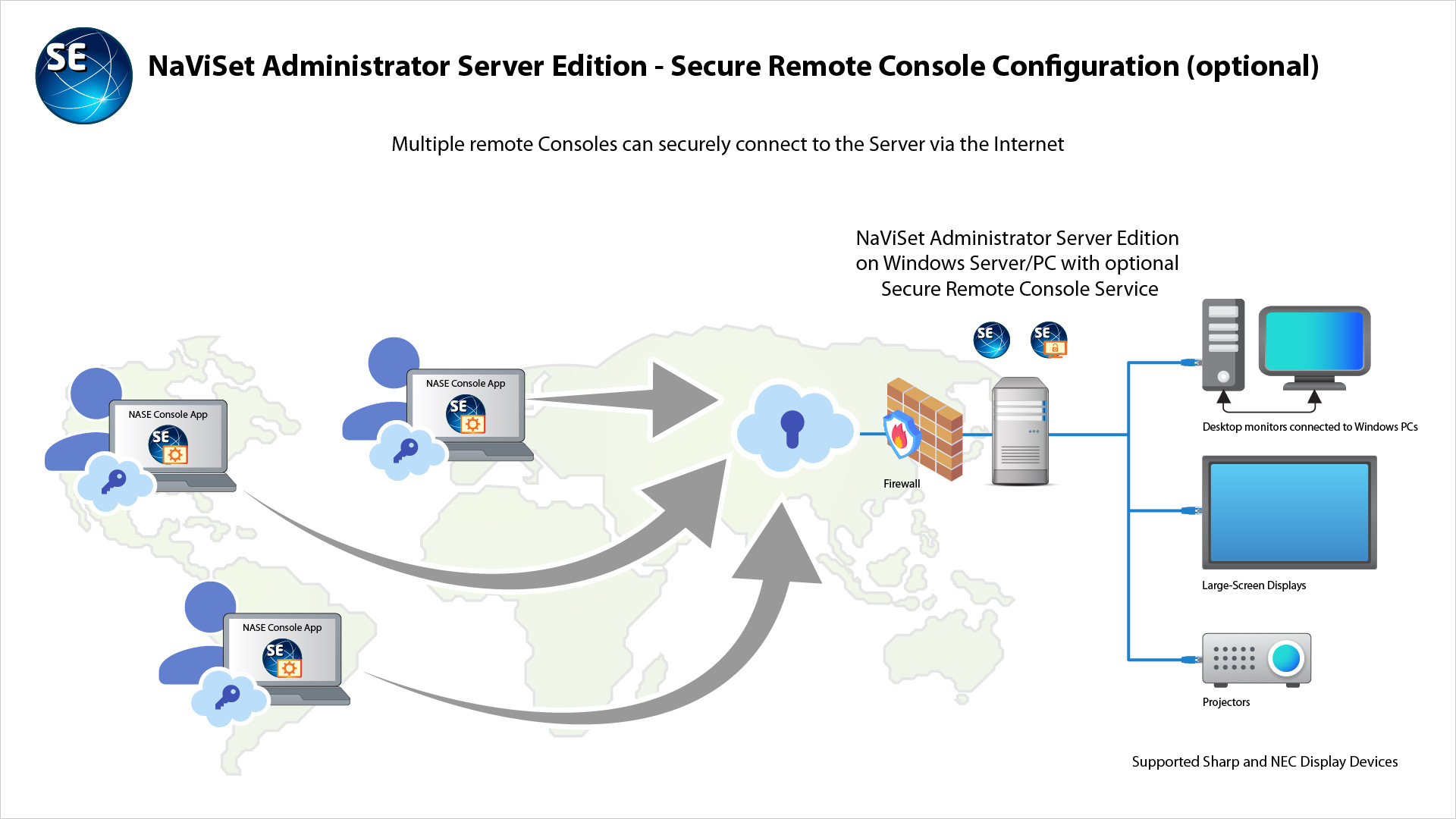 On Demand Asset Management and External Control
View, manage and control any product within your connected Sharp NEC ecosystem through an intuitive user interface that easily allows you to pull any pertinent information needed for your records while also giving you on-demand access to controlling your product.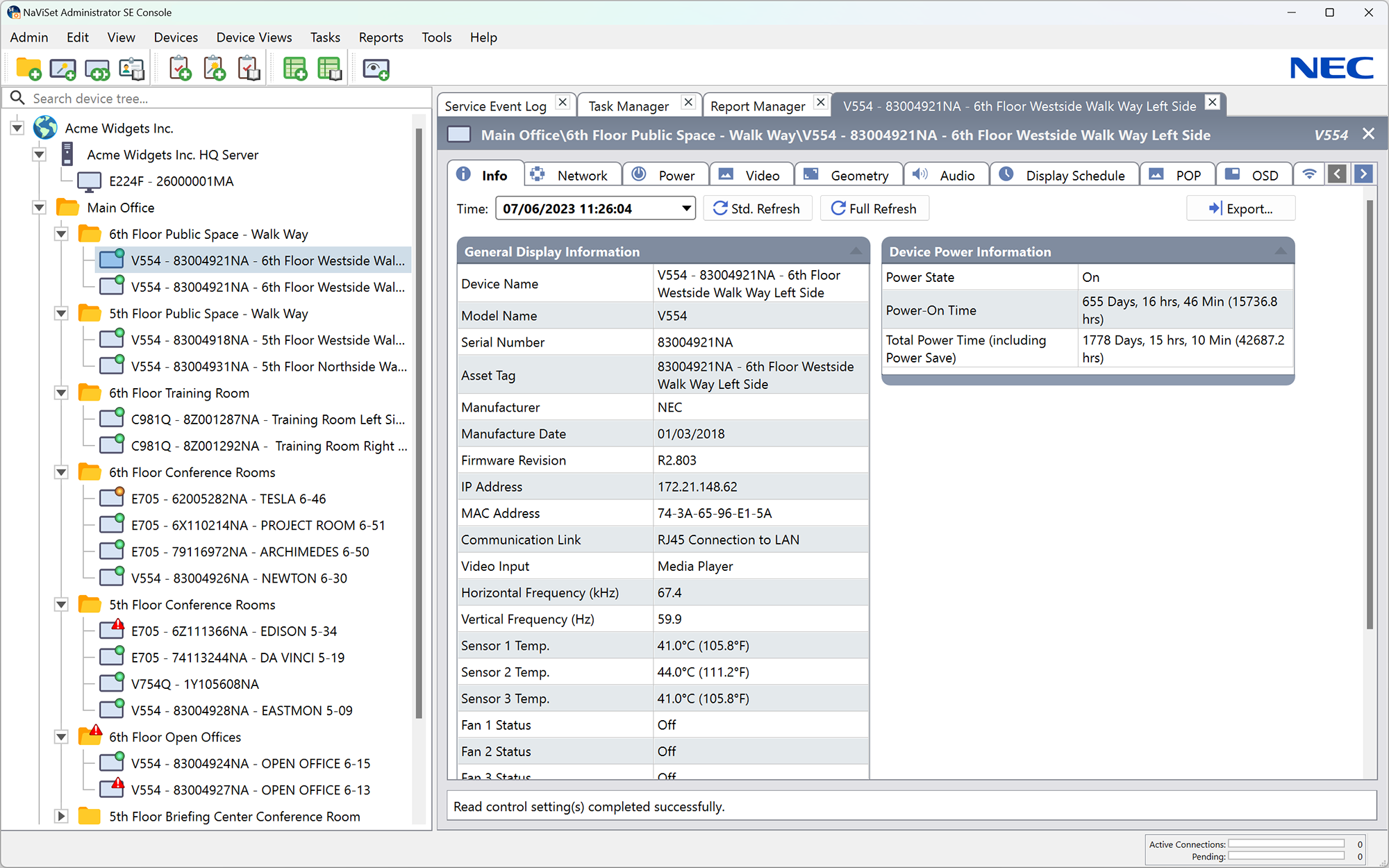 Device Tree
Easy-to-see device tree allows for simple organization of rooms, buildings, or otherwise for easy group management, as well as providing direct access to commonly used functions.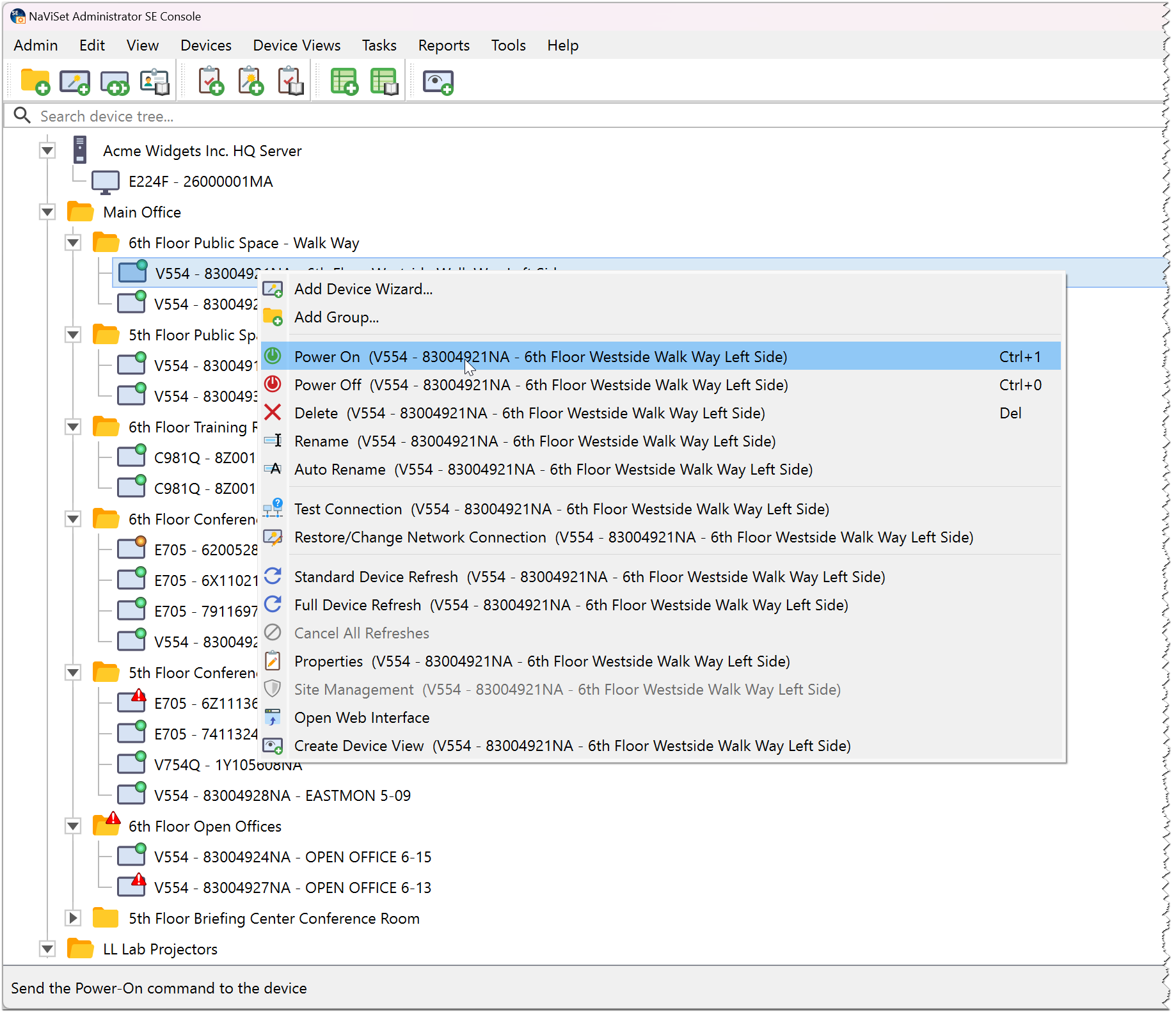 Task Manager
Utilize tasks to perform operations, change settings and read parameters in real time or at periodic intervals. Alerts can be set to automatically send emails to a network administrator if abnormalities or unsanctioned changes are detected.

Report Manager
Reports can be generated by compiling information from any connected device for asset management or monitoring usage. The results of these reports can be exported to different file formats for later review.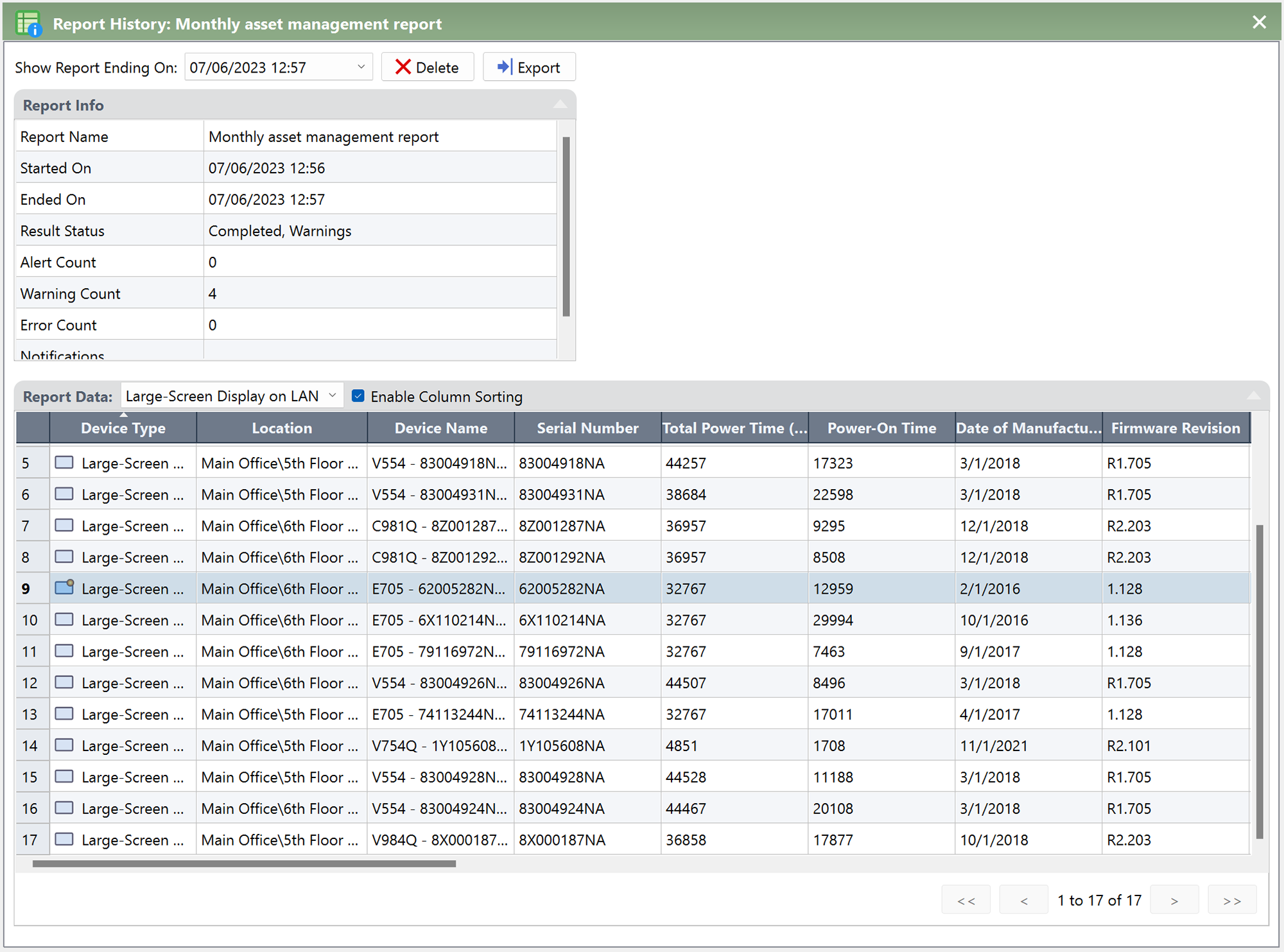 Service Event Log (Server Edition version only)
View all pertinent system information with regards to tasks and reports that have been completed, alert conditions, user logins or changes within the system.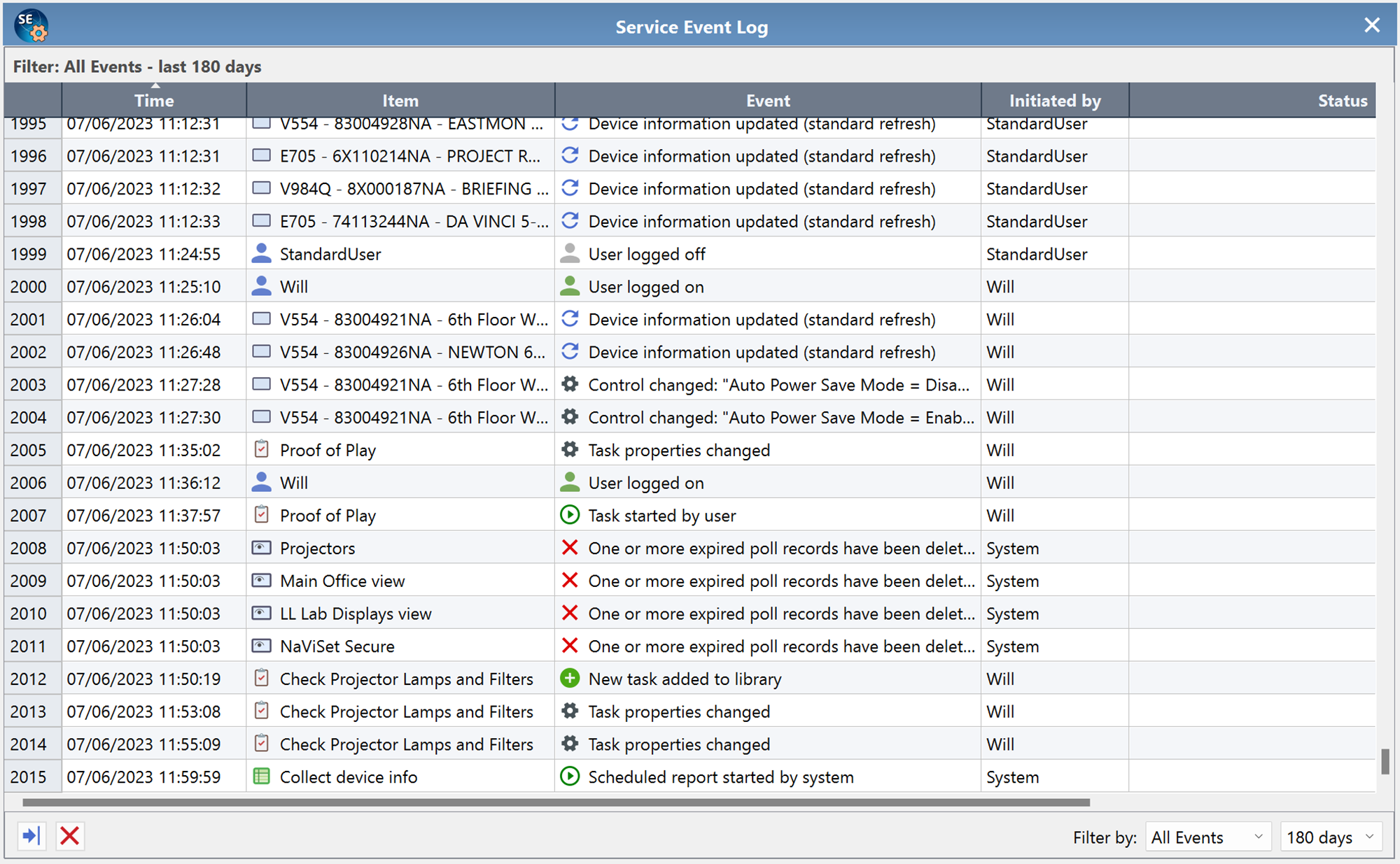 Device Views (Server Edition Version only)
Create custom dashboards in order to view important information in a single layout. Quickly access pertinent settings and view critical data pertaining specifically to your installation.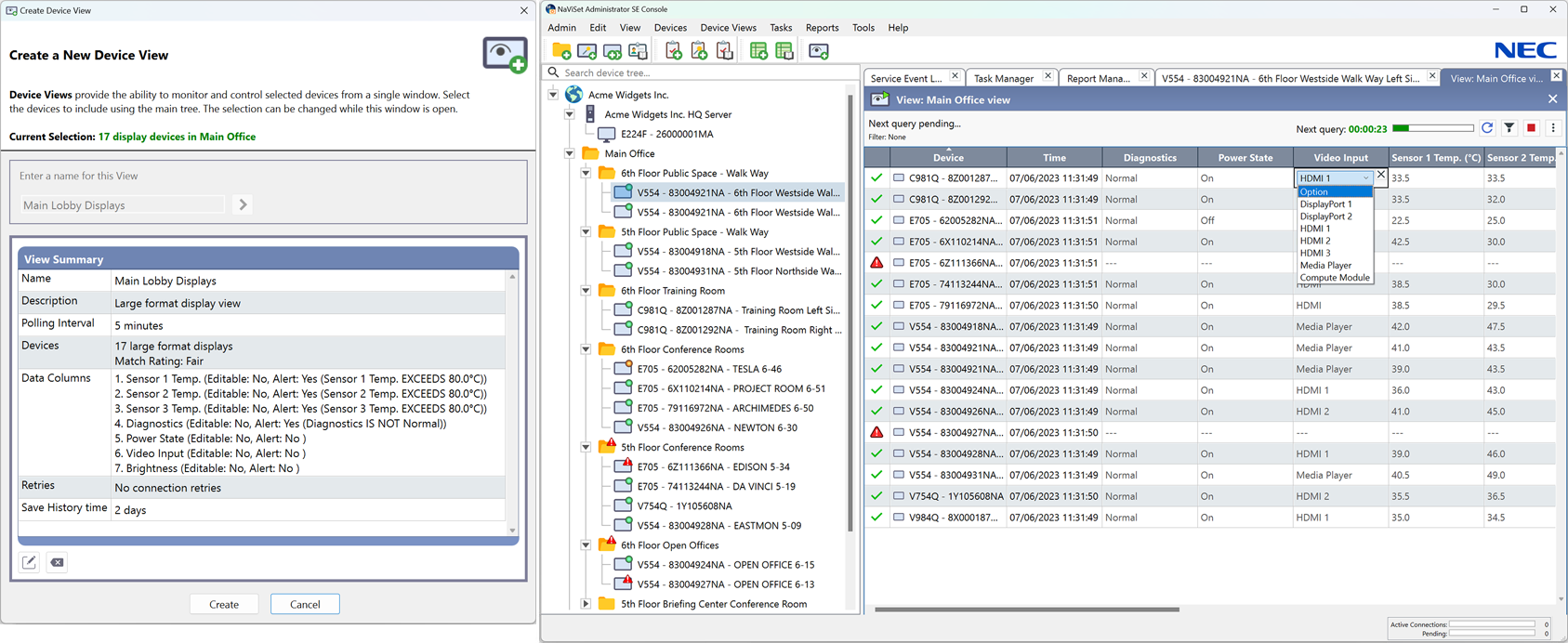 Mobile Device Access
NaViSet Administrator Server Edition provides a browser interface aimed at mobile device access for providing IT teams the flexibility to manage their assets in a constantly moving and connected world while maintaining the privacy and security of an on premises server.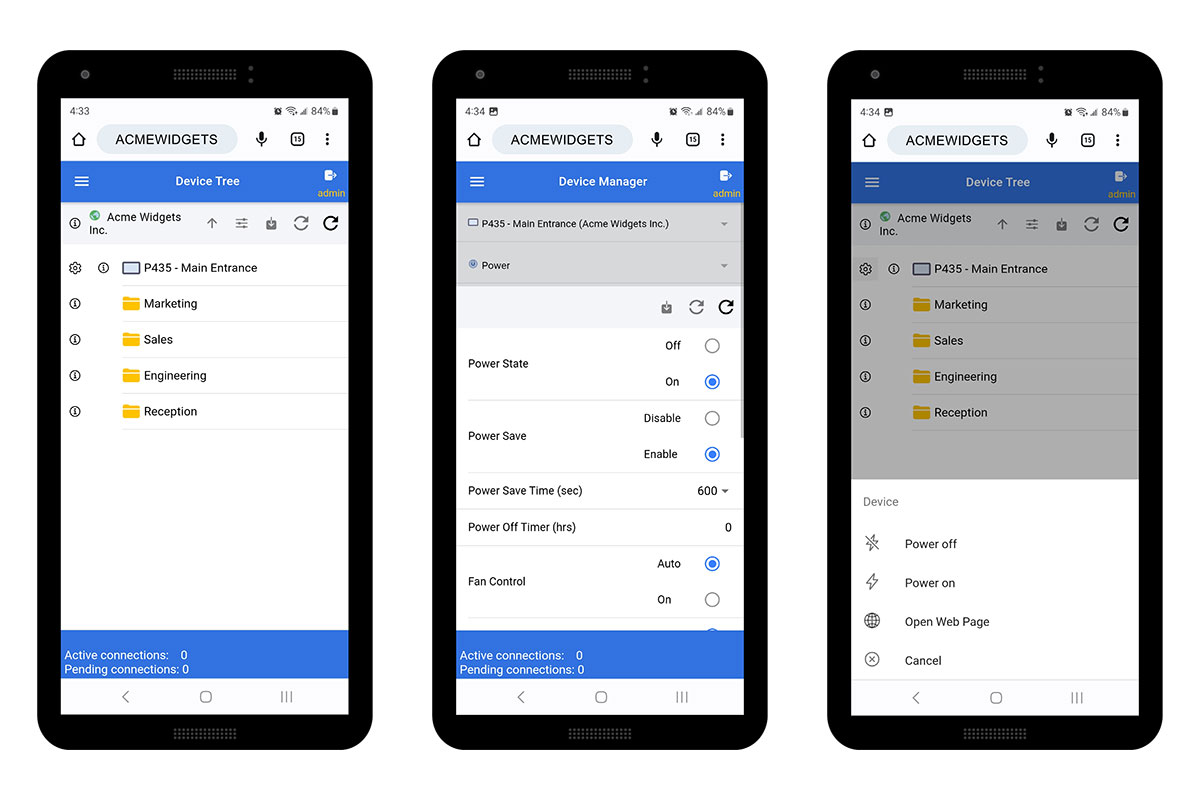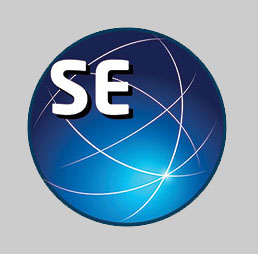 Want to get more information or evaluate NaViSet Administrator Server Edition?
NaViSet Administrator Server Edition Software for Network Control
NaViSet Administrator Resources
Use NaViSet Administrator2 to simplify your network administration
This software package provides unified control and asset management across product lines through an intuitive graphical user interface and allows for settings to be updated, tasks to be queried and reports to be generated for NEC products.
Learn more
Monitor and control all your NEC display devices.
NaViSet Administrator2 reduces adminstration effort and costs and provides confidence that your NEC products ar performing optimally.
View the infographic
Learn how NaViSet Administrator helped bring dinosaurs to life in this success story!
NEC projectors bring a dinosaur's world to life in Chicago Natural History Museum
Read the success sotry