Providing Increased Video Access and Flexibility to Utah Department of Transportation
The Utah Department of Transportation monitors and maintains more than 6,000 miles of highway. In times of crisis, strong technology is a necessity. Yet the department was dependent on an outdated system that no longer served its needs.
Quick Facts-

The Challenge

The Utah Department of Transportation (UDOT) is tasked with monitoring and maintaining more than 6,000 miles of roads and highways in the state of Utah. In times of crisis, it is paramount for this large and important organization to have strong technology that it can rely on, yet it was dependent on an outdated system that no longer served its needs. TVS Pro was tasked with upgrading UDOT's Traffic Operations Center video feed display system to one with a better workflow and visuals for managing traffic and any potential emergencies. The pressure was on for TVS Pro to revamp the Traffic Operation Centers' upper and main walls, and the team was ready for the challenge.

The Solution
(1) 303" diagonal using an NEC LED-FA012I2 (22' X 13', 1.2mm dvLED,) for the main wall to easily view clear, high resolution camera images regardless of weather conditions, in addition to adding capabilities such as dividing the screen for additional detail and awareness during crisis situations
(2) NEC LED-FA012I2-110 (110" diagonal, 1.2mm dvLED, full HD) for the upper walls
NEC FA series dvLED features 1.2mm pixel pitch. The resolution of the side walls is 1920 x 1080, and the main wall is 5,280 x 2,970. The side walls are driven with Kramer MV-4X's to give us independent scaled quad view's (single, side-by-side, 1x3, 2x2), and the main wall with a CORIOmaster2 and 24 discrete inputs (single, 2x2, 3x3, 4x4, 5x5, and various custom templates)
The Result

After working with TVS Pro, UDOT Traffic Operations Center now has a highly technological, extremely capable display system to keep Utah's roadways safe. Users can identify incidents more in depth and have access to various HDMI sources for additional connection and exhibiting. The overload of a new technology system has transformed the way UDOT can assess, support, and react to some of life's scariest moments. A system revamp has allowed for both UDOT workers and Utah's citizens to feel a stronger sense of relief that emergency professionals will be able to tackle chaos more effectively and efficiently. modernization, quality, and progress.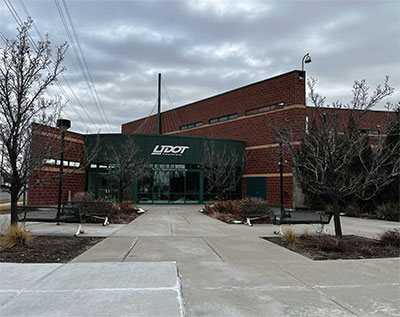 Background
The Utah Department of Transportation's Traffic Operations Center is responsible for the behind-the-scenes tech that allows for safe and reliable transportation across the Beehive State. The Traffic Operations Center provides updates 24 hours a day, seven days a week, including traffic and congestion information as well as road, weather, crash, and construction impacts. The center provides computer-directed traffic cues, accident management on major highways, authority over electronic signage and more, all in an effort to keep Utah's roadways as secure and informed as possible.
UDOT's Brent Parker, Project Manager, enlisted the expertise of Dalton Parker, Chief Technology Officer for TVS Pro, to design and install a replacement of 3 rear projection screens- two single side displays and one 4x3 main display - with three direct view LED walls.
Technology Solutions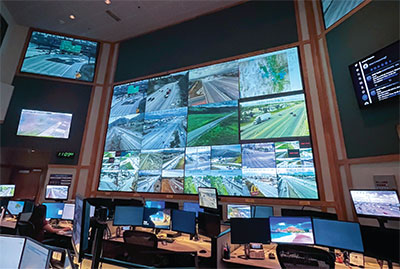 TVS Pro was tasked with designing and implementing a new system to route all of UDOT's 1,700+ cameras to multiple screens throughout the Traffic Operations Center. As the tech needed to run flawlessly 24/7, 365 days a year, TVS Pro knew it was essential to incorporate products the state could count on..
The need for functionality, flexibility and customization was easily found with Sharp displays. With Sharp's strong reliability, unbeatable quality, and supportive customer service in mind, TVS Pro installed two 110" diagonal direct view LED displays for the upper video walls, and one 22'x13' video wall for the main wall to ensure large, detailed imaging even amid foggy weather, snowstorms and heavy rain. The 1.2mm pixel pitch of NEC's dvLED provide an ultra high definition view of UDOT's camera footage, providing some of the clearest and most detailed visuals possible, which are crucial during emergency situations. With the previous displays, the team was limited in their ability to increase or decrease the size and layout of their video feeds. The team wanted to have the flexibility to change and alter their view, with abilities to modify pixelation, brightness and layout, giving them better coverage during emergencies, snow and other weather events by granting them the ability to view multiple video sources at once. With this new installation, the UDOT can easily view any traffic cameras across the entire state of Utah – that's 1,700 cameras on roads, providing 1,700 views of the streets. No longer was the team limited to fixed sizes of available videos and images, but they now had the ability to scale to different sizes based on the needs of varying emergencies. The new technology now provided the UDOT team with crystal clear vision into vehicle crashes, highway fires, snowstorms hindering views, and more, allowing for better help during some of the worst times.
Proven Results
TVS Pro's Dalton Parker shared that the project were "plug and play" and his team had a seamless and positive experience utilizing Sharp products. According to him, UDOT was extremely happy with the outcome and products used and the entire operation, "could not have gone more smoothly."
"This has been an incredible process," stated Parker. "We are so proud to have provided this service for the UDOT and have a small hand in keeping Utah's roadways safe. This couldn't have been possible without Sharp products and guidance from their team."